Complimentary protection proven to increase dealer profits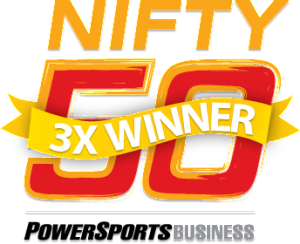 EFG Companies, announced today that its nationally award-winning 1,000,000 Mile Limited Powertrain Protection product for motorcycles has received a Powersports Business Nifty 50 Product Award. This marks the third time EFG has been recognized as a Nifty 50 product winner. For more information, visit http://bit.ly/2oKsd0R.
"The Nifty 50 award demonstrates the innovation and market intelligence that EFG brings to its powersports dealer clients," said John Pappanastos, President and CEO, EFG Companies. 1,000,000 Mile Limited Powertrain Protection helps dealers differentiate themselves and act as a strong testament to the quality of the dealership's inventory, as well as the level of customer service their customers can expect."
The powersports industry recently concluded a second year of struggling to create year-over-year growth. Now, dealers are recognizing even more that they have to differentiate themselves from the competition to generate sales. 1,000,000 Mile Limited Powertrain Protection differentiates dealers with the opportunity to provide consumers with complimentary protection, on both new and used eligible inventory, that lasts as long as they own the motorcycle. In a market where pre-owned bike sales are outpacing new unit sales, this gives dealerships a way to maximize profitability on all inventory.
"In the pre-owned space, the key is value," said Glenice Wilder, Vice President, EFG Companies. "On average, dealerships offering 1,000,000 Mile Limited Powertrain Protection have improved VSC penetration by 48 percent because consumers see the significant value in the coverage, and choose to extend and expand it."