Does it feel like aside from news on the pandemic and supply chain challenges, the mantra for the last two years has been digital sales? Even at the 2022 AIMExpo, "digital" was the word on everyone's lips. Panelists stated that the bulk of powersports customers have spent significant time online researching bikes and financing before they ever set foot in the dealership. Analysts report that 90 percent of powersports sales begins online, yet nearly 85 percent complete the sale at the dealership.
If you are not using an omnichannel approach to engage the customer on the digital platform of their choice, with accurate, easy-to-navigate information, then chances are that customer will never make it to your dealership.
Train for digital sales
Engaging with a potential customer in a digital setting is very different than the dealer floor.  Understanding the customer's needs and moving them through the sales process in a virtual platform requires certain skillsets.
EFG Companies has developed a digitally-focused training curriculum designed to:
Transition to a virtual dialog
Establish a course of action online or at the dealership
Conduct a virtual test drive
Guide customers through a virtual trade walk
EFG's Digital Road Through the Sale training is available online, in classroom or at the dealership. The course includes real-world case studies, role-play exercises, and proven examples delivered by a coach with a proven track record. Whether you need to learn a new skillset or brush up on existing digital retail sales skills, training with EFG ensures that you maximize your sales commission and take care of your customers where they are. Don't invest in an omnichannel sales platform without training your team members how to sell in a digital environment!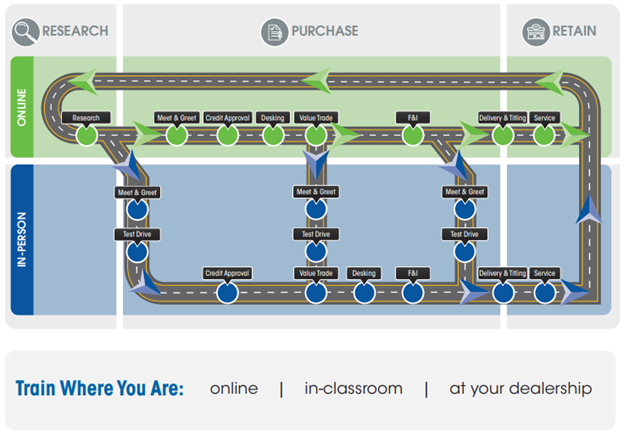 Hire digitally attuned professionals
People in the Gen Y and Gen Z demographics are digitally attuned. Their entire lives have been spent with devices and online content. They know what is authentic and what isn't. They understand how to engage with customers using best-in-class practices. You can always educate them about your dealership's product line, but you can't replace the inherent knowledge they possess.
However, I do have a word of caution. People in these demographics require a clear career path with consistent milestones and opportunities for advancement. They need to know they are valued in their current position and the steps needed to advance.
With our record-setting ability to hire and train staff for our dealer clients, EFG Companies knows a thing or two about today's hiring culture. Our proven team of advisors can assist dealers in navigating the new opportunities in 2022.
We're more than an F&I provider, we're your business partner with years of expertise in the powersports industry. We bring a wealth of industry expertise, business acumen, and tools to drive value for our clients. Contact us today to learn more about how our hiring and training solutions can drive success for your business in 2022.