While February numbers showed major unit sales up 13.4 percent, March 2022 numbers from CDK Lightspeed DMS revealed revenue from new and pre-owned sales declined by more than four percent as compared to March 2021, based on composite data from 1,700 dealerships in the U.S. The only positive number in the CDK data was a 4.7 percent increase in service department revenue, countered by an 8 percent decrease in parts revenue. Clearly, consumers are choosing to repair their current bike – if they can get the parts!
Supply chain challenges continue to plague the powersports industry. From new units to used units to parts, 86 percent of dealers said their inventory was too low in the first quarter of 2022. According to the Q1 2022 Powersports Business/BMO Capital Markets Dealer Survey, low inventory woes have increased from Q4 2021. And the pain is being felt across all powersports segments.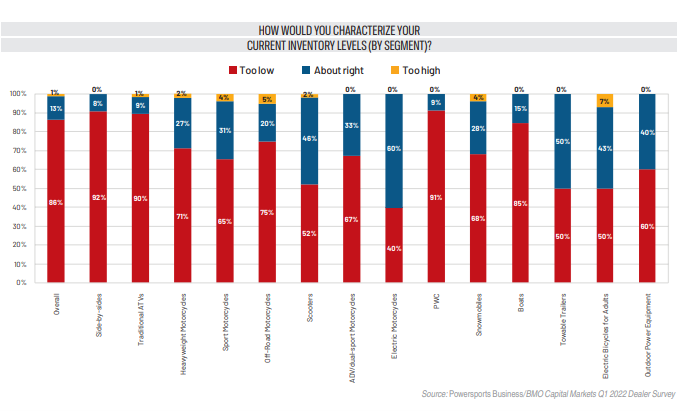 While inventory levels may remain dismal for several months, there are strategic opportunities to generate revenue. Let's consider three tactics that generate profit and strengthen customer engagement.
Used + New = Increased revenue potential
While the powersports industry has greeted many new first-time buyers over the last couple years, chances are your customer has a bike, UTV or ATV tucked in their garage. They are considering a purchase to either upgrade, purchase for a family member, or try a new type of unit. Offer to purchase that old unit, include a protection package on the new unit, and you've just added two additional revenue opportunities on one customer transaction! The used unit becomes a vehicle you can sell, and the protection package delivers value-add dollars to the final sale. You've also solved an issue for the customer while protecting their new purchase. This type of customer engagement translates into a win-win all around.
Smart financing = protection and profit
One of the most overused tools in the dealer's profitability toolbelt today is increasing the front-end cost of the unit. However, by taking this approach, dealers often leave significantly more money on the table and neglect back-end profitability. All too often, the cost of the motorcycle, UTV or ATV is so high that every dollar approved for the loan must be applied to the unit. Before 'running the numbers' on a deal, make sure the deal is complete with enough room for those lucrative back-end products. Many lenders view the addition of protection products as a soft guarantee that the buyer is more likely to complete the financing and pay off the loan. And, a deal that prices in protection generates more revenue all the way around.
Best-practice sales engagement keeps money in-house
Most often a customer's first interaction with your dealership is online. They browse your website for the unit they want and often inquire about the unit's availability using your online tools. How are you transferring your in-person customer service to engaging with customers online? Are your emails or text messages well crafted with correct spelling and grammar? Does your team incorporate the customer interview into their communications, or do they respond with a basic yes, or no regarding a vehicle's availability?
Whether on or offline, quality customer service practices remain the same. Make sure your team is thoughtfully and efficiently answering consumer inquiries without pressuring them to call or visit the dealership. Encourage your team to respond to online inquiries with some of the questions they would normally ask prospective customers in your showroom, like:
What brings you in today?
What type of motorcycle/UTV/ATV/side-by-side do you currently own?
Will you be trading it in?
What do you like about your current vehicle and what do you want in your next?
Asking questions like these before a customer visits your dealership can help secure more business. For example, if a customer asks about a specific unit which is no longer on your lot, inquiring about what the customer wants in their next vehicle could help you find a new/different unit on your lot to meet their needs.
All retail industries are concerned about the impact of inventory constraints and inflationary pressure. During the past few years, sales teams essentially became order takers. However, those orders are expected to slow and it's time to refocus on quality sales and customer service best practices. After all, it's too easy for that precious sale to go to another dealership willing to put in the work.
EFG's proven team of professionals can provide your dealership with the training, tools and resources needed for continued growth and prosperity. We're more than an F&I provider, we're your business partner with years of expertise in the powersports industry. Contact us today to learn more about winning with excellence and boost your success for 2022.