School may be back in session but summer lingers for many parts of the country. In fact, autumn is a preferred time to be on the water for many, with fewer crowds and more pleasant temperatures to spend valuable time with family. Your customers are still clamoring to get on the water – but do you have the inventory to meet demand?
Personal watercraft sales have skyrocketed during the pandemic, and the trend shows no signs of slowing. According to 360MarketResearch, the market will register a 6.2 percent compound annual growth rate in terms of revenue, with a global market size of $2059.2 million by 2025. But powersports dealerships are struggling to stock inventory, sticker prices for units on the lot are rising, and supply chain challenges have impacted manufacturing timelines. Whether looking for new or used vehicles, the squeeze is real.
Dealers with solid cash flow are going to be in the best position to capture that inventory when it's available. EFG Companies is helping powersports dealers diversify their revenue streams with Personal Watercraft Protection. This new vehicle service contract (VSC) from EFG gives powersports dealers a market-differentiating value-add by protecting consumers from costly mechanical breakdowns, while generating cash that dealers greatly need to purchase inventory.
EFG's Personal Watercraft Protection provides exclusionary coverage for new and pre-owned personal watercraft, with:
Flexible terms based on model year
Four deductible options
Optional surcharge for trailer coverage
Towing reimbursement
Trip interruption
The cost of keeping the personal watercraft on the water
Many consumers have no idea how much it costs to repair the average personal watercraft, much less tow it to a repair facility. It likely never crosses their mind until they are stranded or have a craft that is out of commission. This graphic highlights some of the most costly repairs that many personal watercraft owners face.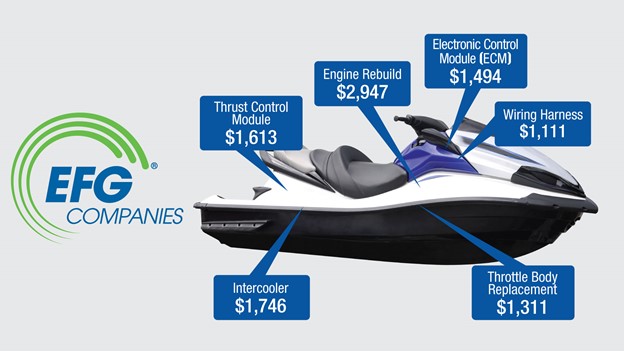 Your customers want to enjoy the waning days of summer on the water, and not waste time on the dock trying to diagnose a problem. Personal Watercraft Protection from EFG Companies gives buyers greater confidence in their purchase, knowing they are covered and will be back on the water soon.
Increase your profit on each unit sold and diversify your cash flow to acquire more inventory with a market differentiating product that can expand your customer base. Learn more here and end the year in an even stronger position.