Everyone likes choices, and consumers looking to secure financing for a vehicle are no different. When shopping for the best auto loan, they look at rates, but that's not all. They're also looking for value-added options to provide greater security in their decision, especially in today's turbulent economic times.
So, how are credit unions faring?
According to S&P Global Intelligence, U.S. credit unions grew their auto loan portfolios by more than $6 billion in the fourth quarter of 2021, reporting a total balance of $408.21 billion at the end of the period. Breaking that down, new auto loans at credit unions amounted to $143.20 billion at year-end 2021, up from $142.86 billion at the end of the previous quarter. Used car loans increased 2.2 percent quarter-over-quarter and 10.2 percent year-over-year to $265.01 billion.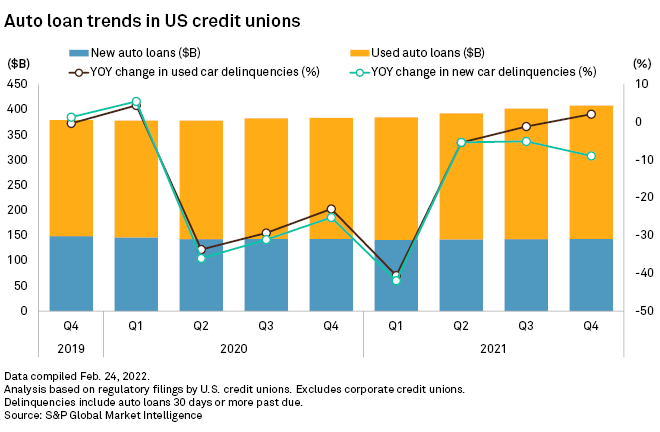 While some of this dramatic growth could be attributed to COVID-related pent-up demand for vehicles and low interest rates, retail automotive inventory remains at an all-time low due to lingering supply chain issues.
Another potential correlation points to the strong rebound in employment numbers. In June 2022, total nonfarm payroll employment rose by 372,000 and the unemployment rate was pegged at 3.6 percent, according to the U.S. Bureau of Labor Statistics. Many of these new hires may have jobs that are tied to credit unions, a 'low hanging fruit' option for any branch hoping to grow their auto loan portfolio.
Rising interest rates and more choices make credit unions more competitive
So how can credit unions grow their member base and auto loan portfolio? Choices are the name of the game.
With the Federal Reserve slated to issue another interest rate increase, credit unions have a decided advantage when it comes to loans. Their nonprofit operational model means they are taxed less than banks, so their fees and loan rates tend to be lower than banks, thus allowing credit unions to offer some of the lowest APR rates on car loans. While this advantage has served as a cornerstone in the credit union market strategy, it can no longer be relied upon as the single largest reason for a consumer to rely on credit union financing.
Consumers who are looking for the best deal are also considering protection products that give them the best value. According to "Review of the Best Credit Unions for Car Loans" from the consumer ranking site The Balance, the best institutions offer not only good rates but a strong digital platform – and choices. The savvy lender will offer a menu of choices with options for both new and used vehicles. Options such as WALKAWAY® vehicle return protection, MAP® Vehicle Protection, or Drive Forever® Worry Free Limited Lifetime Powertrain Protection as well as Key Replacement Protection are great differentiating products which can be offered as complimentary, value-add options.
At EFG, our team of experts are here to advise and assist our lending partners. We're not just a provider, we're a business partner. Contact us today to get started.