Electric vehicles are a hot topic these days – for consumers and automotive dealers alike. However, not all electric vehicles are alike. Like any new product, consumers can be confused and overwhelmed. A dealer's success in selling any type of electric vehicle requires your staff to be knowledgeable on the product details and trained to guide the customer through the buying decision process.
Electric vehicles on the road today
Battery Electric Vehicles (BEVs)
BEVs—also referred to as "all-electric vehicles"—run on electricity only and are recharged from an external power source. They are propelled by one or more electric motor powered by rechargeable battery packs.
Plug-In Hybrid Electric Vehicles (PHEVs)
PHEVs also use batteries to power an electric motor and can be recharged from an external power source, but they incorporate a smaller internal combustion engine that can recharge the battery (or in some models, directly power the wheels) to allow for longer driving ranges. When electricity is unavailable, PHEVs can run on gasoline alone.
Hybrid Electric Vehicles (HEVs)
HEVs are powered by a combination of an internal combustion engine with electric motors running off a battery pack for greater efficiency. The batteries of an HEV cannot be recharged from an external source.
Fuel Cell Electric Vehicles (FCEVs)
FCEVs use a highly efficient electrochemical process to convert hydrogen into electricity, which powers an electric motor. FCEVs on the market today are not designed for recharging their battery from an external source. Rather, they are fueled with compressed hydrogen gas that is stored in a tank on the vehicle.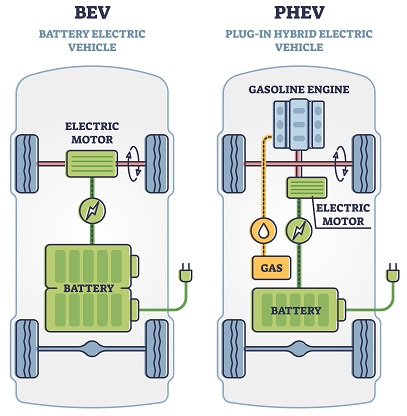 Revenue Awaits Savvy Dealers
According to Experian's car registration data (via Automotive News), 158,689 BEVs were registered in Q1 2022, which is 60 percent more than a year ago. As a result of these robust first quarter metrics, the BEV market share improved to a new record of 4.6 percent nationwide.
While this might seem small in the grander scale, analyst firm EVadoption predicts electric vehicles sales (including all types) should reach approximately 29.5 percent of all new car sales in 2030 from roughly 3.4 percent in 2021. This would also represent a sales increase to 4.7 million from a little more than 500,000 in 2021.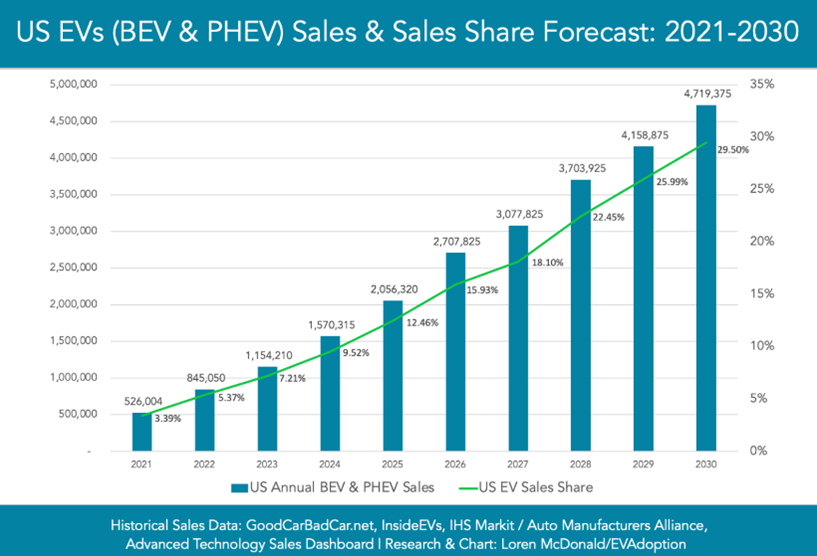 Clearly, EVs are gaining market share and present a revenue opportunity for retail automotive dealers who are set up to support these vehicles and their buyers. Selling an EV is not the same as selling an internal combustion engine (ICE) vehicle. Savvy dealers are already investing in the right infrastructure now for the years ahead.
Education is critical
All the different subcategories and their corresponding charging requirements surrounding the new class of electric vehicles is enough to scare away any customer – much less a dealership team who is more comfortable selling traditional vehicles. A consumer who is interested in transitioning away from a traditional vehicle might be best suited for a PHEV model versus a BEV. An Edmunds announcement in March 2022 indicated that PHEVs and HEVs might be more widely available – and have lower price tags – than BEVs. These types of cars can lessen dependency on gasoline, save the customer money by using less gasoline and nurture the eventual transition to BEVs.
Regardless of which type of EV a customer chooses to buy, the sales and finance team members need a working knowledge of the vehicle, it's at-home charging options, and available financing. In fact, many lenders are updating their pre-qualification requirements to include effective at-home charging capabilities. If the charging infrastructure and knowledge is lacking, those revenue-generating EV models may be on the lot with dead batteries and no sales on the books.
Your dealership can be a valued resource – and close a sale – if your staff is knowledgeable about both the pluses and minuses of owning all classes of electric vehicles. Invest in training to ensure every team members have a good understanding of these vehicles, how they operate, as well as what resources are needed at home and on the road to capitalize on their features and benefits.
Protect the investment
We all know that electric vehicles are not the same as traditional vehicles with internal combustion engines. In the F&I office, that difference means it's time for a new type of vehicle service contract designed specifically for electric vehicles. MAP Electric Vehicle Protection from EFG Companies is designed to meet the unique needs of electric vehicle owners and help dealers diversify their revenue streams. Learn more about this exclusionary vehicle service contract here: http://bit.ly/2YX1226
As your strategic business partner and F&I leader, EFG has the tools and resources to help you sell and support all vehicle sales. We bring a wealth of industry expertise, business acumen, and tools to drive value for our dealer clients. We're not just your F&I provider – we are your business partner. Contact us today to learn more about our profitable solutions that can drive success for your business in 2022.