Does it feel like aside from news on the pandemic and supply chain challenges, the mantra for the last two years has been digital sales? In their last quarterly shareholder meetings, each of the publics discussed their digital sales platforms. In the most recent car buyer journey study, Cox Automotive stated that 80 percent of consumers plan to complete at least part of their vehicle purchase online, and 25 percent expect the vehicle purchasing process to happen entirely online.
Of course, we know there is a difference between expectations and reality. In this digital transition, very few transactions happen online, soup-to-nuts. The average consumer's actual experience reflects a more hybrid model, with both digital and physical touchpoints.
Dealers navigating this transition need a strong customer engagement strategy, both on and offline, which requires new skillsets and training. From the initial encounter to closing the sale, your team members must be adept at engaging with the customer on their platform of choice. The salesperson who masters these many nuances will make the sale – and get the commission!
EFG Companies has developed a digitally-focused training curriculum designed to:
Transition to a virtual dialog
Establish a course of action online or at the dealership
Conduct a virtual test drive
Guide customers through a virtual trade walk
EFG's Digital Road Through the Sale training is available online, in classroom or at the dealership. The course includes real-world case studies, role-play exercises, and proven examples delivered by a coach with a proven track record. Whether you need to learn a new skillset or brush up on existing digital retail sales skills, training with EFG ensures that you maximize your sales commission and take care of your customers where they are.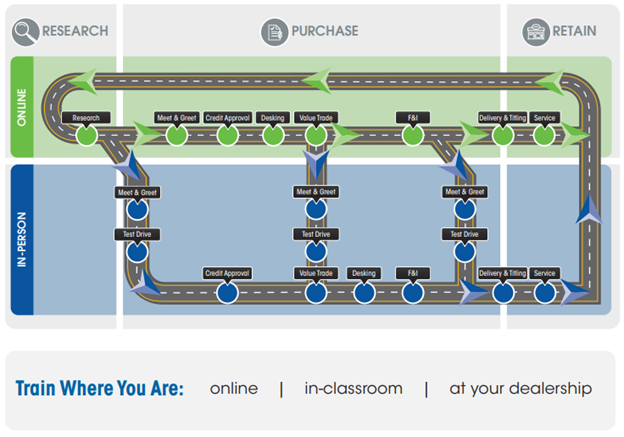 EFG Companies and its team of experts are poised to help you navigate your training needs to maximize your digital sales success. As your strategic business partner and F&I leader, we bring a wealth of industry expertise, business acumen, and tools to drive value for our clients. We're not just your F&I provider – we are your business partner. Contact us today to learn more about our profitable solutions that can drive success for your business in 2022.